Graz, Austria
Technische Universität Graz
Technische Universitat Graz was founded in 1811 by the Archduke Johann. The core areas of the university are teaching and research in technical sciences and technical natural sciences. The total enrollment at TU Graz is about 10,000 students, of which about 15 percent are international students.
Based on scientific bachelor's programs, TU Graz concentrates on research-oriented master's and PhD programs.
Technische Universitat Graz produces top performers and managers much in demand and contributes to the sustainable development of society, economy and environment in a responsible way.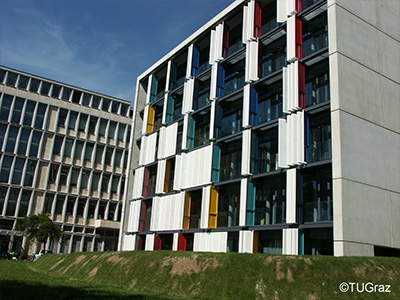 See All 8 Photos
Main Campus

Graz, Austria

5,000 - 20,000 on Campus

250,000+ residents in Graz

Language(s) spoken on campus: German, English

Graz, previously named European Cultural Capital, is situated in the southeast of Austria at the focal point of southeast Europe. The city is well situated for travel. The Old Town is among the best preserved in Europe and was added to UNESCO's list of World Cultural Heritage sites in 1999. The city hosts numerous festivals, and the unique architecture representing styles ranging from the Middle Ages to the twenty-first century offers a fascinating mix of tradition and modernism.

Graz, as a vibrant community with over 40,000 students, provides numerous opportunities for free time activities. As an ISEP student you will be assigned a student mentor, who will introduce you to the Austrian way of life. The student union organizes regular's tables where you can meet other exchange students, and trips all around Styria (e.g. Styrian vineyards, spa, hiking) and Austria (e.g. Vienna). The Sports Institute of Graz offers inexpensive courses for students. There are also numerous opportunities to enjoy cabaret entertainment, theatre and the opera, as well as concerts in Graz. During the summer months many students like to gather in the city's biggest park (Stadtpark) to study, play sports or music, or simply hang out.
{{ university.programsLength }}

Programs

at Technische Universität Graz