Nottingham Trent University is one of the largest universities in the U.K. 91 percent of our students say they would recommend NTU. NTU is committed to giving students the best possible student experience, and we have recently put the finishing touches to a number of brand new facilities, including the new Students' Union building at the city site. As well as being the new home for the Students' Union, it's a great place to meet people, get advice, have a workout or just relax. While NTU's roots go back to 1843, and we cherish our long history, the university also has an eye on our students' futures. The People & Planet Green League rank us in the top 10 of 133 U.K. universities. NTU's Students' Union has also been awarded the Green Impact Students' Unions' Gold Standard Excellence Award. The university offers a variety of subjects for study from art & design to business to equine sports science. The international exchange office provides excellent support for all exchange and international students, and the new global lounges provide students with a social space to make new friends from around the world.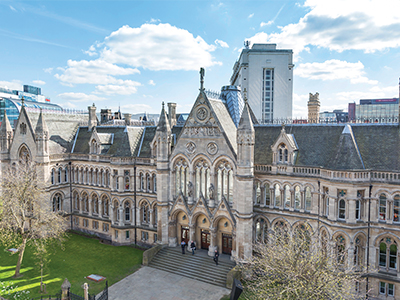 See All 8 Photos
5,000 - 20,000 on Campus

100,000 - 250,000 residents in Nottingham

Language(s) spoken on campus: English

Following a multi-million pound investment programme, the new and improved Clifton is looking better than ever. We've developed a cutting-edge campus, with your own needs in mind – it's the perfect blend of peaceful spaces, and big ideas. We've recently added the Pavilion, a state-of-the-art sports centre, new and improved accommodation, and a number of high-spec laboratories. We've also invested over £5m in the Clifton Library, and refurbished The Point – Clifton's social hub, and the home of the Students' Union.

You'll have the best of both worlds here – living and learning on a self-contained campus, which is only four miles from the bustling heart of Nottingham. You'll always be a part of the larger NTU community, but you'll have a place to call your own.

20,000+ on Campus

250,000+ residents in Nottingham

Language(s) spoken on campus: English

Nottingham Trent University is based in the popular student city of Nottingham, which hosts around 60,000 students from across the globe, over 10,000 of whom are international and approximately 8,500 are from the European Union. NTU currently has 28,000 students.

Nottingham is a compact city, and students will get to know it quickly. Students enjoy the cultural benefits one would expect from a major city complete with the intimacy and inexpensive lifestyle associated with a small city. In addition, the beautiful Peak District, ideal for walking and relaxing, is only a 50-minute drive away.

Nottingham is ideally situated in the centre of the U.K., easily accessible by road, rail and air. The closest airport is the East Midlands Airport. It only takes two hours by train to/from London.

Nottingham has the youngest population of any major U.K. city and its night-time venues reflect this — there are nightclubs, music, comedy and cinema venues. It is a cultural city, housing one of the U.K.'s largest contemporary arts centres, Nottingham Contemporary. Nottingham is also Britain's culinary capital with more cafes, restaurants and bars per square mile than anywhere in the U.K. And don't forget about the famous inhabitants who include the novelist D.H. Lawrence, the poet Lord Byron, and of course Robin Hood!

The City Site is located in the centre of the city of Nottingham and is home to over 17,000 students studying business, law, social sciences, art & design, architecture & the built environment, broadcasting and journalism. The City Site has the beautiful Arkwright building, a Grade II listed building which is officially recognized as having special historical or architectural interest.
{{ university.programsLength }}

Programs

at Nottingham Trent University