Guanajuato, Mexico
Universidad de Guanajuato
Universidad de Guanajuato, with a tradition of more than 260 years in public education, has distinguished itself for its quality of teaching. The university's main campus is located in Guanajuato and its satellite campuses and schools are in the cities of Leon, Irapuato, Celaya and Salamanca, where the schools of medicine and psychology, agricultural sciences, business management, and mechanical, electrical and electronic engineering are located.

On the main campus, the school of mining, metallurgy and geology building contains an important museum of mineralogy, and students are able to work in a mine very close to the school to gain first-hand experience. The Armando Olivares Library contains several collections of books that date back to the 16th century. These rare books provide a rich source for research.

Sports facilities are spread over the campus and the city. The university takes pride in its symphonic orchestra and many other varied musical groups. The university also participates in the famous International Cervantes Festival that annually invites artists from more than 30 countries in the areas of music, theater, dance, opera, cinema, art and exhibitions.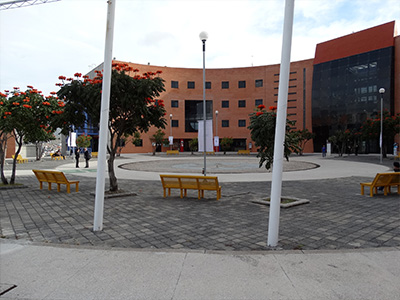 See All 6 Photos
20,000+ on Campus

100,000 - 250,000 residents in Guanajuato

Language(s) spoken on campus: Spanish

Universidad de Guanajuato is nestled in the mountains of the capital city of the state of Guanajuato. The city of Guanajuato is relatively small and most of the city's life centers on the university. The university considers the entire city its campus because its buildings are spread all over town. The school of philosophy, history and literature is housed in the former Convent of Valenciana. In 1988, Guanajuato was declared a Cultural Patrimony of Humanity by UNESCO because of its historic monuments and its varied cultural ambiance, which attracts many visitors and tourists as well as students, enriching the multicultural identity of the city.

Students will be able to participate in sports such as soccer, rugby, baseball, basketball, tae kwon do and more. Students can also enroll in arts courses such as guitar, dancing, performing and scenic arts, and more. The program "host students" will help international students adapt to Mexican culture and get to know historical places and cities. Trips to Mexico City, Teotihuacan, Tequila factories and colonial cities are included in the program. A cultural show is organized during the semester. International students have the opportunity to share their home country or city such as culinary shows, dancing, singing or just talking. In addition, students will be able to participate in local and national festivities.
{{ university.programsLength }}

Programs

at Universidad de Guanajuato